Ten Data Influencers Unite on Connect The Dots Campaign, London, [September 12, 2023]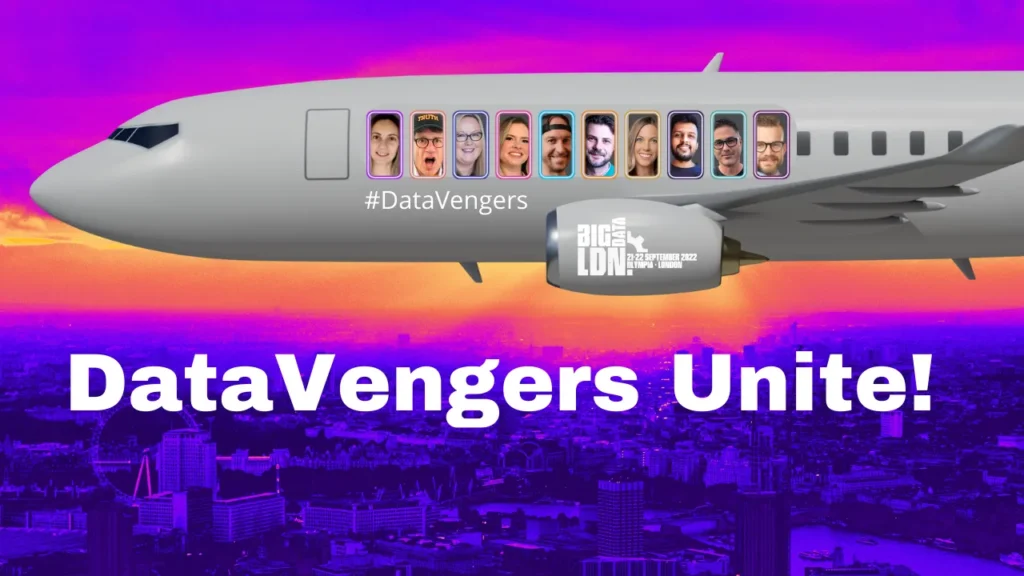 Doug Kimball, Chief Marketing Officer of Ontotext, expressed his enthusiasm , stating, "We're excited to join forces with the DataVengers at Big Data London, driving engagement and excitement during and after the event. There's a lot for us to talk about in today's data, analytics and AI space and whether you're able to attend the event or not, we hope you join us in the conversations!"
DataVenger Kate Strachnyi of DATAcated shared their plans. "We have a full agenda of sessions and a slew of exciting things in store." Along with scheduled sessions, The DataVengers will be joining the Ontotext team at their booth, recording videos, and live streaming broadcasts. "We are aiming for a 'FOMO-inducing' experience and have a few surprises up our sleeves!" added Strachnyi.
All ten members of The DataVengers will be presenting at the Big Data LDN event, produced by RX Global Exhibitions and with an estimated attendance of over 12,000 participants, it promises to be a highlight for the industry.
Scott Taylor, known as The Data Whisperer, highlighted the significance of The DataVengers, saying, "We are a united and coordinated group of influential B2B voices and professional content creators distinguished by our diverse creative range, strong personal branding, global following and genuine camaraderie."
In addition to Strachnyi and Taylor, other DataVengers appearing at Big Data LDN will be George Firican, Ravit Jain, Andrew Jones, Kristen Kehrer, Jordan Morrow, Joe Reis, Christina Stathopoulos, and Susan Walsh.
Creative agency Deep Vibe will be covering the event with their video crew. "We are thrilled to capture the antics of this dynamic group as they bring the Connect The Dots campaign to life for Ontotext," said Deep Vibe CEO Michael Gilday.
Tom Augenthaler, B2B Influencer Marketing Consultant and Founder of The Influence Marketer, commented on the uniqueness of this partnership, saying, "Although similar collaborations have been seen in the realm of consumer brands, I have never seen this type of model on the B2B side. I'm very interested to see the portfolio of content that emerges from this project."
The DataVengers group anticipates formalizing their offerings for 2024 to include coordinated event presence, brand amplification, "agenda in a box" packages, and other content that seamlessly blends expertise with entertainment.
About DataVengers:
The DataVengers is a formidable group of B2B influencers and professional content creators specializing in the data, analytics, and AI space. This group distinguishes itself through its unique voices, diverse expertise, wide creative range, strong personal branding, and extensive industry recognition. Their genuine camaraderie and robust presence on social media platforms has attracted a dedicated following eagerly anticipating their informative content.
For further information, please contact:
Scott Taylor- [email protected]
Kate Strachnyi- [email protected]
About Ontotext:
Ontotext is a leading provider of graph database solutions, empowering organizations to unlock the full potential of their data. With a focus on data management and semantic technology, Ontotext offers cutting-edge solutions for managing complex data relationships. Ontotext's Connect the Dots campaign aims to connect data, knowledge, and insights for smarter decision-making.
Sam Isdale :- [email protected]

Creative agency Deep Vibe brings B2B tech brands to life through value-driven, human-centric storytelling that really resonates. Whether it's Video, Design, Writing or Animation, this collective of clever creatives effortlessly extracts art from the science of AI, ML, Data & Analytics.
Michael Gilday :- [email protected]